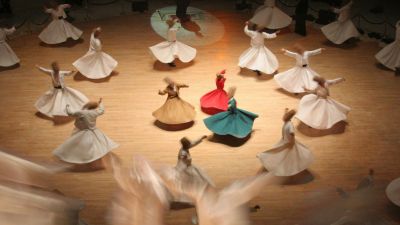 Sema being a part of the traditions and beliefs in Turkish history, is developed with the Rumi's (1207-1273) inspiration. It presents a spiritual journey to perfection (Ascension), there and back.
MEVLEVIYE
Mevleviye is an ascetic Sufi order founded in 1273 in Konya, from where it gradually spread throughout the Ottoman Empire. Today, the Mevleviye can be found in many Turkish communities throughout the world, but the most active and famous centres of the order's activity are in Konya and Istanbul.
SEMA CEREMONY
Mevleviye are renowned for their whirling dances. Following a recommended fast of several hours, the whirlers begin to rotate on their left feet in short twists, using the right foot to drive their bodies around the left foot. The body of the whirler is meant to be supple, with eyes open but unfocused so that images become blurred and flowing. At their dancing ceremonies, or Sema, a particular musical repertoire is played. Based on four sections of both vocal and instrumental compositions, it is performed by at least one singer, a flute player, called neyzen, a kettledrummer and a cymbal player.
Dancers used to receive 1001 days of reclusive training within the mevlevi houses (mevlevihane), where they learned about ethics, codes of behaviour and beliefs by practising prayer, religious music, poetry and dance. After this training, they remained members of the order but returned to their work and families.
UNESCO INTANGIBLE CULTURAL HERITAGE
Sema ceremony is formed of 7 parts. Each part has a different meaning as following.
It starts with the ma't composed by Itri. It praises our prophet who represents the holy love. It is called Na't-i Serif meaning to praise the prophet, other prophets and the God created all.
After this encomia, the kudum beat is heard. This beat represents the God's order of Kun (meaning be in English) during the creation of the universe.
Ney is played representing the breath which perished all beings.
It is the part of the Sultan Veled. Mevlana Whirling Dervishes salute each other three times and walk in a cycle with prelude. It is the greeting of the secret soul to the other.
Sema ceremony is of 4 salutes. The whirling dervish takes of his black cardigan symbolically born in the truth. He crosses his arm as a presentation of the one. So, he testifies for the unity of the God. He kisses the hand of the Sheikh and takes permission to join the Sema and starts.
It is part in which the Quran is read
The Sema ceremony is finalized with prays to the souls of the prophets, martyrs and all believers.
UNESCO Identity Card:
Official Name: Mevlevi Sema Ceremony
Criteria: Representative List of the Intangible Cultural Heritage of Humanity
Date added to UNESCO List: 2008